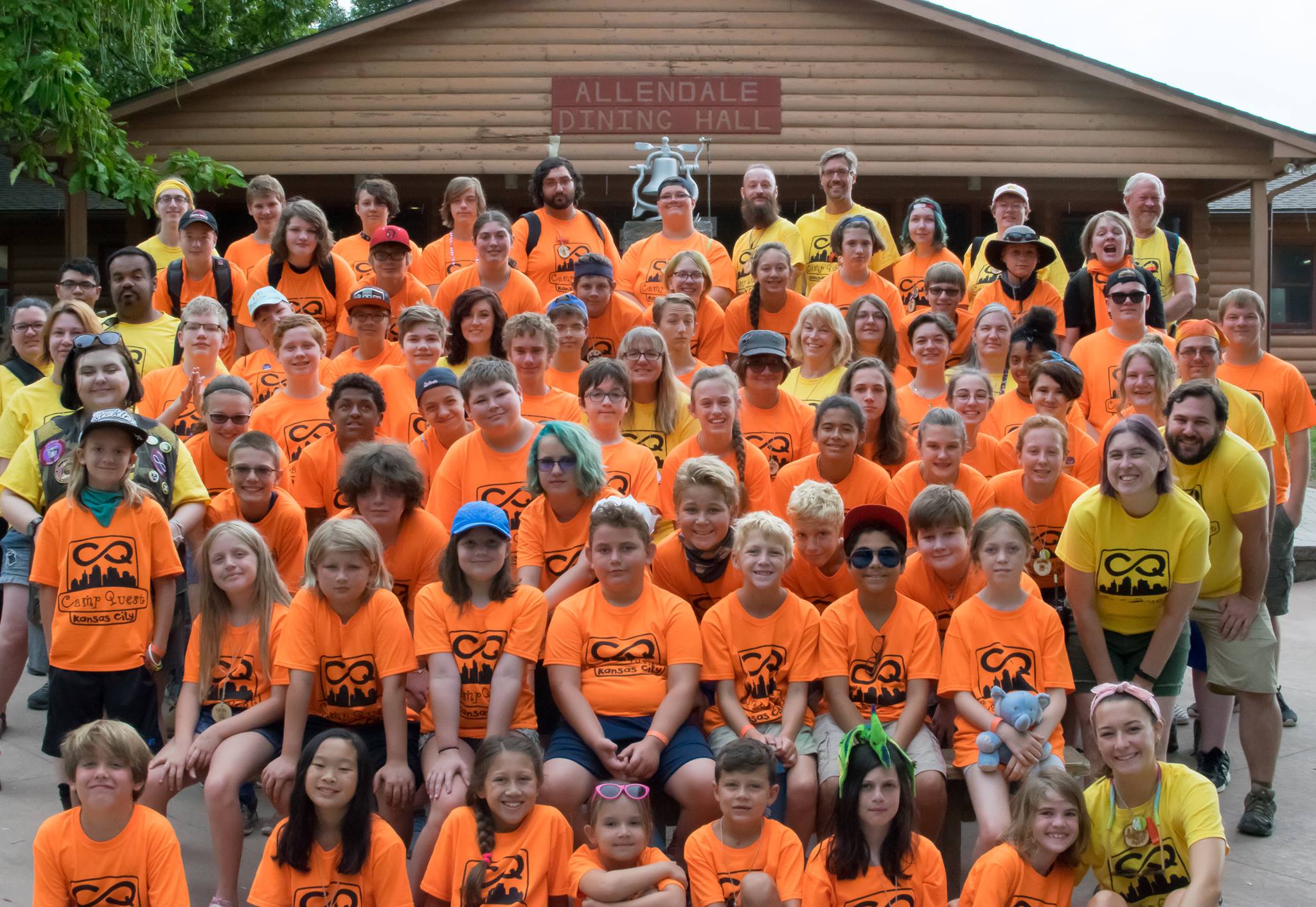 Happy New Year from Camp Quest Kansas City!
Registration for our 2019 Camp is now open!
Camp Quest Kansas City's 2018 camp session rocked!
What a fun time we had at CQKC's 2018, Camp-tastropie!, camp session!

We welcomed new and returning campers from various mid-west states, and many came from great organizations like KC Oasis, Ethical Society of Mid Rivers, Shawnee Mission Unitarian Universalists, Humanists of Houston, Offutt Humanists, Oklahoma Atheists, Secular Families of Northwest AK, Wyandotte/Leavenworth Freethought.

Our educational programming focused on natural disasters, and the geologic and meteorologic forces that cause them. In addition to our fantastic educational activities, we offered a wide variety of activities for campers to choose from to get the most out of their camp experience.

This year we had enough interest to have 2 gender inclusive cabins and each filled with campers of various ages and genders.

Some campers created mutant stuffed animals, while some went on epic adventures with our first year of Dungeons and Dragons games, and others learned how to play Ga-Ga Ball. And of course…spent time in the pool!

We had our 2nd Annual Clothespin Tag Tournament, Iron Chef Nate challenged campers to come up with tasty meals using dehydrated food, and we rounded out the camp session with our Talent show!

But don't take our word for it. See what campers and parents had to say about their week with us below!
At the end of camp every year, we ask campers and parents to fill out a short survey about their experience at camp. Below are some of the responses we received:
Campers said:
98% Have friends at camp.

95% Felt respected for who they are at camp.

95% Said CQKC helped them get to know people who are different from them.

96% Learned to respect other people, even if they have different ideas and feelings.

92% Learned that people can be good, even if they don't believe the same things.

92% Said CQ helped them feel good about themselves.
Parents said:
96% that CQ had a positive impact on their camper.

96% Said their camper gained self confidence at camp.

96% that CQ helped cultivate reason and empathy in their camper.
"I learned to be
more accepting."
We asked campers what they learned at the 2018 CQKC "Camp-tastrophe!" session, and here are a few of their answers:
"That there are others like me."

"A lot about humanism, science and philosophy."

"Lava in real life and in movies are very different."

"To respect people for who they are."

"That there is a layer of meteorite dust in the earth."

"How to get out of my shell."

"I've learned to be more outgoing and independent."

"I've changed to be more willing to talk to people."
"I'm happier having
come to CQ 2018."
"I'm more comfortable talking to people and I felt very welcome."
We asked parents what they would tell someone thinking of sending a child to Camp Quest, and here are a few of their answers:
"A great way for your child to learn independence, gain new friends and spend time in nature."

"This camp is a great place to grow and explore while being in an inviting, safe environment."

"Wonderful camp for inquisitive children!"

"Best camp around"

"It's a place for your child to be with others who are accepting and empathetic."

"My daughter loved it! The first thing she said when I picked her up at the end of the week was "Can I come back next year?"

"Our daughter has participated in the Leadership Track program multiple years and she learns something new every year. It's been exciting to see the changes in her as she steps up and into a new role."

"Do it!!"
"It's a fun, open
environment where
a kid can be themselves
without fear of judgement. Chances are, they'll find
friends that are just like them."
Don't wait to register your camper!
Space is limited! We expect to fill up soon!
This year's theme will be full of the magic of science! Surrounding a wizarding theme. Planning has already started and our Leaders are excited about all the fun things we will be doing at camp this year! We will have new activities and returning favorites. Keep an eye on our Facebook Page as well as our website! So brush off your wands and spruce up those dress robes!
We can't wait to see you!